J.F. Boente Sons, Inc
Having been in business for over 90 years, J.F Boente Sons is recognized as being the longest running Shell Oil jobbership in the country.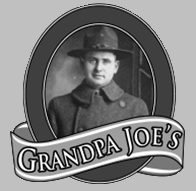 The Boente family's long history of customer service dates back to 1929, when brothers Joseph, Hugo, and John Boente opened a service station and general hauling business on West Main Street in Carlinville, IL. John passed away in 1942, and Hugo left in 1950 to start his own business in Springfield. Around that time, Joseph's sons, Joe and Stephen joined the business, with third son, Lawrence, coming on board shortly thereafter. Four generations of the Boente family have now passed through the business, with nearly every descendent of Joe, Stephen, and Larry working for the company at one time.
Through the years, the company has expanded its gasoline business to twelve locations, serving many small communities within a forty mile radius of Carlinville. In 1959, the business also expanded into the propane home and agricultural heating business, and now serves over 2000 customers within fifty miles of Carlinville.
Family ties play a strong part in the lasting legacy of "Grandpa Joe," but equally important have been a dedicated employee staff and a loyal customer base. The Boente family considers it a privilege to serve the area communities, and greatly appreciate their patrons. They genuinely hope that 80 years and four generations is just a start.